Southeast Ethiopia-Omo Valley 2020
ONE SPOT LEFT
ETHIOPIA/OMO VALLEY/HARAR 10-DAY WORKSHOP
People/birds/wildlife/night sky
Ten-Day Workshop $4,695.00*
January 15-25, 2020
Meet and greet January 14th
*Price includes all lodging/camping/food/ground transportation/park entrance fees/photography fees.
A workshop that continues to be one of the most popular and memorable for every student who has participated in prior years. The price of this workshop is all inclusive of meals, lodging and ground transportation However, alcohol is extra as are the 'model fees' that each photographer pays to photograph the many and various tribal people you will meet as well as camp with and as a general rule, each person you photograph expects payment for their photo, and at present we are paying 10 Bhur (20 US cents) or 20 Bhur, (40 US cents) each, depending on the tribe and or person(s) in your shot. Generally each student will spend at most, $20 each day, (yes, that's about 50+ people each day).  In addition, to the fee of $4,695.00 you must also pay for your International Round Trip flight to and from the capital, Addis Ababa, Ethiopia and also a one-way flight from Addis Ababa to the town of Jinka (for travel on the afternoon of January 15th) and from the town of Dire Dawa to Addis Ababa on January 25th and both of these towns are served by Ethiopian Airlines.
Here is the FULL ITINERARY, below, (subject to minor changes depending on unexpected yet welcomed opportunities that can come up such as a bull jumping ceremony, a tribal marriage or the desire of the group to stay in a given location longer…) January 15th (Feel free to arrive Addis January 13th or 14th if you wish to see more or just get acclimated to the time zone change, but if you chose to arrive on January 15th  from the USA or Europe or the Middle East, your flight will in all likelihood arrive in the morning between 6am-9am, so you will have no trouble making the afternoon flight on that same day, the 15th, to Jinka from Addis…ALSO YOU WILL NEED A YELLOW FEVER VACCINATION AND THE YELLOW CARD AS PROOF…
Temperatures in January are a very pleasant 85-95 degrees but with very very low humidity and often a light wind. You will want to pack your shorts, short sleeve shirts and do bring sunscreen and a hat as well, and as far as shoes, just a comfortable pair of thongs/flip flops or tennis shoes but hiking boots are NOT necessary as you will be walking for the most part on sandy ground.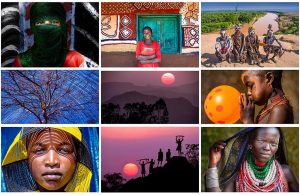 DAY 1) January 15th, take mid-day flight Addis Ababa to Jinka. Meet and greet that afternoon at the hotel in Jinka but I will be meeting all of you at the airport.
Day 2) January 16th Drive to Mursi Tribe morning shoot then depart for Karo tribes and set up camp for two nights and shoot star trails each night.
Day 3) January 17th Another day with Karo tribes and an afternoon shoot with the nearby Kangaten tribe
Day 4) January 18th After another morning shoot with the Karo tribe, we break camp and drive two-hours to Turmi, and check into hotel and shoot the market in Turmi
Day 5) January 19th Depart Turmi, and head out mid-morning for the drive to the Erbore Tribe where we will camp for one night and shoot that afternoon and into the evening and shoot star trails again.
Day 6) January 20th We break camp in the morning and head for Konso where we spend several hours with the Konso tribe and then depart for the town of Arba Minch and lodge for two nights at the 5-star Haile Resort
Day 7) Janauary 21st, we spend the morning with the Dorze tribes and that afternoon we will be shooting both hippo's and crocodiles on Lake Abaya and then return after sunset to the hotel for a much welcomed buffet dinner.
Day 8) January 22nd check out of the Haile Hotel and head for Lake Lagano and lodge in the Lake Langano Resort after spending much of the day with the Oromo Tribes.
Day 9), January 23rd, check out in the morning from Lake Langano Resort and head for Harar, shooting that afternoon in the very colorful 2,000 year old walled city of Old Harar and that evening we will venture out into the wilds and feed the wild Hyenas with the aid of a local tribesman.
Day 10) January 24th, Shoot both morning and afternoon again in the very colorful town of Old Harar,
Day 11) January 25th, an early morning shoot in Harar, followed by breakfast then we check out of hotel by 12pm and take the shuttle to the airport to catch our afternoon flight from the airport in the nearby city of Dire Dawa, and fly back to Addis Ababa where you will arrive that afternoon, in plenty of time to make your connection that evening to your international flights, assuming you are planning on returning to USA or Europe that evening.
Also, regarding meals and such; we eat very well while lodging in the hotels but we eat even better when camping as we will be catered to with breakfast, lunch and dinner by a 5-Star Chef and as so many other students have commented in the past, "the meals served up while camping rivaled many 4 and 5-star restaurant's!"
ETHIOPIAN AIRLINES FIGHT INFORMATION
Flight information for Addis Ababa to Jinka January 15th:
First flight is from Addis to Arba Minch, arriving at 1:05pm Flight #135 Ethiopian Airlines and connecting flight is from Arba Minch at 1:35pm to Jinka, flight #135
Flight informatino for Dire Dawa to Addis Ababa January 25th
Flight #205, leaves Dire Dawa at 4:00pm, arrives Addis at 5:00pm
……………………………………………………………………………………………………………………….
To make this workshop the most enriching experience possible, I am strongly recommending that your basic camera kit include the following:
1) Camera Body…(it is not necessary that you have two camera bodies but IF you do have two camera bodies you are certainly welcome to bring both.)
2) Lenses: For those of you who have a crop sensor camera, i.e. Canon 70D, Canon T3, Nikon D5300, Nikon D7200, Nikon D500, you will benefit immensely if your current lenses offer the focal lengths from 18mm-300mm BUT, if you have focal lengths from 12mm-300mm, AND a macro lens and/or a set of Kenko Extension Tubes there will be no subject matter that is out of your reach.
For those of you with a full frame camera i.e. Canon 5DMarkIII, Nikon D810, Nikon D750, you will benefit immensely if your current lenses offer the focal lengths from 28mm-300mm, BUT if you have focal lengths from 14mm-400mm or 500mm AND a macro lens and/or a set of Kenko Extension Tubes, there will be no subject matter that is out of your reach.
3) IF you own a portable flash, bring it, but if you do not own a flash, DO NOT buy one for this workshop
4) Filters: You will need a circular polarizing filter, an FLW magenta filter. These other filter's may come in handy but DO NOT buy them but IF you alrady own then do bring them: a 4-stop ND filter, a three-stop LEE Graduated ND filter BUT the additional LEE Holder is arguably NOT necessary as one can often just hold the filter up to the lens for most shooting situations.  And finally the optional 10-stop aka "Big Stopper" ND filter Links to these filters can be found below.
5) You will need a light-weight but sturdy tripod along with a sturdy tripod head.
6) Although most of your time will be spent shooting DO bring your laptop IF you are enrolled in any of the workshops that are THREE DAYS OR LONGER. DO NOT bring your laptop IF you are enrolled in a TWO DAY WORKSHOP.
7) You will need at least 128GB of memory card(s). I have yet to have any student fill up a 128GB card in a given day, so I am using the 128GB card as the daily threshold. Each night you will of course have the opportunity to download your images and start anew the next morning with a clean card.
8) Extra Batteries, fully charged as well as your charger and DON'T FORGET to bring the necessary electrical adaptors for your charger when doing workshops outside of North America.
9) A camera bag to keep all of the above.  If you prefer to carry on your back, or use a camera bags with wheels, it matters not to me, but for obvious reason, when walking along beaches or mountain trails camera bags with wheels can be a bit challenging.
10) A LOCKING electronic cable release for all of your blue hour and nighttime photography, ESPECIALLY WHEN SHOOTING THE NIGHT SKY, so go to your favorite camera store or camera store's website and search for a locking electronic cable release for YOUR specific camera i.e, "Locking electronic cable release for my Canon 70D…"
We are going to make some lasting memories together-PROMISE!
All my best-
Bryan F Peterson
Questions or waitlist? Email Monique: [email protected]