Rajasthan and Varanasi India 2020
TWO SPOTS LEFT
RAJASTHAN and VARANASI INDIA
(HOLI FESTIVAL TAKES PLACE MARCH 9-10th)
13-day Workshop
$3,995.00
(Price does NOT include HOTELS or any AIRFARE)
MARCH 6TH-18th (13-Day Workshop) Return to Delhi March 19th 3PM.
MEET and GREET MARCH 5th, 7pm, 
Workshop begins in Delhi, March 5th at 7pm with a meet and greet in the lobby of the LaLit Hotel at Connaught Place. Over the course of the next two very colorful days, March 6th and 7th, we will explore the many (and oh my are there ever many) backroads and pathways of the 4,000 year old market, Chowndni Chowk, a people photographers paradise to be sure!
We will check out of the LaLit Hotel the morning of March 8th and fly from Delhi to the most holiest of Hindu cities, Varanasi, arriving early afternoon and we will lodge at the Taj Ganges Hotel for the next three nights, March 8th, 9th and 10th, and it is here where we will ENJOY the most colorful of Indian Festivals HOLI! Holi begins the evening of the 9th and is in full force on the 10th. Brace yourself as the multi-colored 'baby powder' will be flying ALL DAY on the 10th!
We will check out early on March 11th, catch a flight to Delhi and spend one night at the Holiday Inn, Delhi Airport,  and then on March 12th we will take an afternoon flight at 1pm to to Jodhpur the 'Blue City', arriving Jodhpur around 2:30pm and then check into our hotel , the amazing CHOTI JHANKER HAVELI, (located just beyond the Clock Tower area) for the next two nights and we will spend the balance of that first late afternoon shooting in and the very active Clock Tower area.  March 13th, and 14th will be spent shooting in the amazing Blue City, both in the old and new city and on the morning of March 15th, we load up our luggage early in the morning and head up the road in our HUGE, Bus like van to the Pink City, Jaipur, arriving at the Holiday Inn, Jaipur where we will lodge for the next two nights, March 15th and 16th, shooting a bit on the 15th and all day on the 16th as well as the morning of the 17th. We depart Jaipur in the early morning March 17th, for Agra, where the Taj Mahal awaits, as well as the many colors that await along the banks of Agra's Yamuna River.  After checking into the Raddison Blu Hotel in Agra the afternoon of March 17th we will head over to the Taj Mahal for an afternoon shoot and on the morning of the 18th we will head out early for a pre-dawn shoot of the Taj Mahal and then into 'old Agra' for an all-day outing of more street shooting of cows, monkeys and of course the colorful scenes below us as we shoot down onto the people doing laundry on the banks of the river Yamuna River.
Late morning, March 19th, we load up our luggage, check out of the Radisson and make the 3 1/2 hour drive to Delhi, arriving at Delhi Airport around 5pm where you can plan to catch your late evening flight back to the USA or Europe or SE Asia as most flights to these destinations leave between 9pm and Midnight.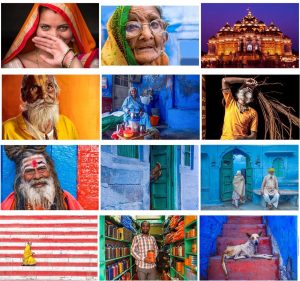 FLIGHT TICKETS NEEDED WITHIN INDIA: March 8th, Delhi to Varanasi, ROUND-TRIP, Air India Flight#1406 Delhi Varanasi, March 11th return Flight #1405 Varanasi Delhi. March 12th, ONE-WAY flight Delhi to Jodhpur, AIR INDIA, Flight #475…
To make this workshop the most enriching experience possible, I am strongly recommending that your basic camera kit include the following:
1) Camera Body…(it is not necessary that you have two camera bodies but IF you do have two camera bodies you are certainly welcome to bring both.)
2) Lenses: For those of you who have a crop sensor camera, i.e. Canon 70D, Canon T3, Nikon D5300, Nikon D7200, Nikon D500, you will benefit immensely if your current lenses offer the focal lengths from 18mm-300mm BUT, if you have focal lengths from 12mm-300mm, AND a macro lens and/or a set of Kenko Extension Tubes there will be no subject matter that is out of your reach.
For those of you with a full frame camera i.e. Canon 5DMarkIII, Nikon D810, Nikon D750, you will benefit immensely if your current lenses offer the focal lengths from 28mm-300mm, BUT if you have focal lengths from 14mm-400mm or 500mm AND a macro lens and/or a set of Kenko Extension Tubes, there will be no subject matter that is out of your reach.
3) IF you own a portable flash, bring it, but if you do not own a flash, DO NOT buy one for this workshop
4)Filters: You will need a circular polarizing filter, an FLW magenta filter. These other filter's may come in handy but DO NOT buy them but IF you already own then do bring them: a 4-stop ND filter, a three-stop LEE Graduated ND filter BUT the additional LEE Holder is arguably NOT necessary as one can often just hold the filter up to the lens for most shooting situations.  And finally the optional 10-stop aka "Big Stopper" ND filter Links to these filters can be found below.
5) You will need a light-weight but sturdy tripod along with a sturdy tripod head.
6) Although most of your time will be spent shooting DO bring your laptop IF you are enrolled in any of the workshops that are THREE DAYS OR LONGER. DO NOT bring your laptop IF you are enrolled in a TWO DAY WORKSHOP.
7)You will need at least 128GB of memory card(s). I have yet to have any student fill up a 128GB card in a given day, so I am using the 128GB card as the daily threshold. Each night you will of course have the opportunity to download your images and start anew the next morning with a clean card.
8) Extra Batteries, fully charged as well as your charger and DON'T FORGET to bring the necessary electrical adaptors for your charger when doing workshops outside of North America.
9) A camera bag to keep all of the above.  If you prefer to carry on your back, or use a camera bags with wheels, it matters not to me, but for obvious reason, when walking along beaches or mountain trails camera bags with wheels can be a bit challenging.
10) A LOCKING electronic cable release for all of your blue hour and nighttime photography, ESPECIALLY WHEN SHOOTING THE NIGHT SKY, so go to your favorite camera store or camera store's website and search for a locking electronic cable release for YOUR specific camera i.e, "Locking electronic cable release for my Canon 70D…"
We are going to make some lasting memories together-PROMISE!
All my best-
Bryan F Peterson
Questions or wait-list? Email Monique: [email protected]