SOLD OUT
LOFOTEN ARCHIPELAGO,NORWAY
$3,695.00
FEBRUARY 21st to March 1st (10-day Workshop)
MEET AND GREET FEBRUARY 21ST
Day 1 – February 21st
Meet and greet February 21st, 7pm – Harstad, Thon Hotel
Following your flight from Oslo, my assistant and photographer extraordinaire Adrian Popan and I will pick you up from the Harstad/Narvik Evenes Airport, where we have two 9-seater vans awaiting for us to start our adventure, plenty of room for everyone, including luggage. (SEE FLIGHT INFORMATION FOR FLYING TO AND FROM HARSTAD at end of this document.)
There are several flights arriving from Oslo with both, SAS and Norwegian airlines, throughout the day but we will not be planning on picking anybody up until around 5:30pm so plan your flight from Oslo to Harstad accordingly. From the airport to the Thon Hotel of Harstad will take us about 45 min, depending on the traffic and weather conditions.
Depending on the weather and Aurora Borealis forecast for that night, we might already schedule a short drive out of the city in order to spot the spectacular display of the Northern Lights!
Day 2 – February 22nd 
Depending on the light and weather conditions, we might schedule a shooting at sunrise in the city or nearby (TBC). However, we have to consider the hours ahead of us to spend while driving towards Lofoten and also know that the whole trip will be done in stunning landscape, all along the way!
At some point on this day, weather related, we will depart Harstad and start our journey to the Lofoten islands. The trip takes about 3.5 hours, but we might make some stops on our way to take pictures, again weather permitting. We might even spot some reindeer and moose, on our first half of the trip!
We will be shooting our first sunset either along our way (depending on where it gets us) or at Henningsvaer, one of the most picturesque villages of Lofoten islands. Henningsvaer offers fantastic shooting opportunities and we will for sure return either for one full day or another sunrise or sunset shooting session. It is full of colourful houses and boats, outstanding landscape and seascape, birds, fishing boats, harbour, cozy houses etc.
Before arriving at our base close to Leknes (a small town with shopping mall, restaurants and everything else you need), where we will spend the next 7 nights and 8 days, we will stop on our way to buy some groceries, as we will be self-catering for ourselves. There will also be (rather expensive) restaurants where we can taste local food.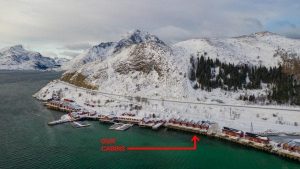 The cabins offer all the necessary comfort, having each 3 bedrooms and two bathrooms (one per floor) and featuring a fully equipped kitchen, washing machine, dishwasher etc. We will offer single occupancy for each participant. Bed linings and towels ARE included.
Day 3 – February 23rd to Day 9 – February 29th 
We will spend the next 6 days shooting at sunrise and sunset and everything in between.
At this time of the year, being located at more than 360Km above the polar circle, the light is great for photography all day long, since the sun will never rise very high above the horizon. This will be very challenging, as we will need to be able to stop to rest, eat, socialize etc. It will be very hard to do so, though, considering the endless photographing opportunities of the stunning beauty surrounding us.
Every day, the "photographic menu" will consist of fjords, beaches, imposing views of steep rocks and mountains, fishing villages and their harbours with boats, colourful houses, majestic coastlines, as well as sea birds (seagulls and we might even spot white-tailed sea eagles!).
As we will be strategically located halfway between Reine (at west) and Henningsvaer (at east), the two most picturesque fishing villages of the Lofoten islands, we will be at short distance drives (max 1 hour) from all the points of interest. Moreover, we will be at 10-15 minute drives from some of the most famous beaches of Lofoten, such as Haukland and Uttakleiv, Myrland or Unstad and Eggum, to name just a few.
Other great shooting locations are 20 to 30 minute drives only! Here is a (non-exhaustive) list of places where we will found ourselves shooting:
Beaches: Haukland, Vik, Uttakleiv, Myrland, Unstad, Eggum, Skagsanden, Vikten, Yttresand, Ramberg etc.
Villages (and their harbors): Ballstad, Napp, Flakstad, Ramberg, Henningsvaer, Stamsund, Sund, Reine, Sakrisoy, Hamnoy, Tind, Sorvangen, A etc.
And everything else in between!
Logistics: next to the usual photographic gear, mentioned below, the weather in Lofoten  can turn from beautiful and almost balmy to downright bone chilling cold wet and windy SO it is essential that you pack COLD weather clothing, layers are the norm, and of course that also includes the need to pack a waterproof parka, pants and shoes PLUS bring those hand and foot warmers.
Also when traversing the frozen trails of ice and snow, ice grippers are the norm and you will have the option of renting as pair at 50 Euros if you feel your own hiking boots won't be adequate. Also, when retiring each evening to the cabins, you will to wear slippers or heavy wool socks so the normally heavier and harder soled boots do not scratch up the cabin's hardwood floors.
Normally, the weather conditions are rather mild, given the location of the islands and the influence of the Gulf Stream, with temperatures averaging 28-32 degrees F by day, (0°C – 2°C ). However, if the wind blows from north and north/east, the temperatures can easily drop to 15 degrees F (-10°C) or less and with the chill factor one could feel like (0 to -10 F (-15°C or -20°C)  but on the upside, that kind of weather will bring some great, dramatic photographic conditions, such as ominous skies, snow storms and creating some very moody landscapes!
Here is the flight information we are recommending for everyone.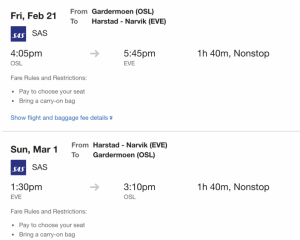 ……………………………………………………………………………………………………………………………..
To make this workshop the most enriching experience possible, I am strongly recommending that your basic camera kit include the following:
1) Camera Body…(it is not necessary that you have two camera bodies but IF you do have two camera bodies you are certainly welcome to bring both.)
2) Lenses: For those of you who have a crop sensor camera, i.e. Canon 70D, Canon T3, Nikon D5300, Nikon D7200, Nikon D500, you will benefit immensely if your current lenses offer the focal lengths from 18mm-300mm BUT, if you have focal lengths from 12mm-300mm, AND a macro lens and/or a set of Kenko Extension Tubes there will be no subject matter that is out of your reach.
For those of you with a full frame camera i.e. Canon 5DMarkIII, Nikon D810, Nikon D750, you will benefit immensely if your current lenses offer the focal lengths from 28mm-300mm, BUT if you have focal lengths from 14mm-400mm or 500mm AND a macro lens and/or a set of Kenko Extension Tubes, there will be no subject matter that is out of your reach.
3) IF you own a portable flash, bring it, but if you do not own a flash, DO NOT buy one for this workshop
4)Filters: You will need a circular polarizing filter, an FLW magenta filter. These other filter's may come in handy but DO NOT buy them but IF you already own then do bring them: a 4-stop ND filter, a three-stop LEE Graduated ND filter BUT the additional LEE Holder is arguably NOT necessary as one can often just hold the filter up to the lens for most shooting situations.  And finally the optional 10-stop aka "Big Stopper" ND filter Links to these filters can be found below.
5) You will need a light-weight but sturdy tripod along with a sturdy tripod head.
6) Although most of your time will be spent shooting DO bring your laptop.
7)You will need at least 128GB of memory card(s). I have yet to have any student fill up a 128GB card in a given day, so I am using the 128GB card as the daily threshold. Each night you will of course have the opportunity to download your images and start anew the next morning with a clean card.
8) Extra Batteries, fully charged as well as your charger and DON'T FORGET to bring the necessary electrical adaptors for your charger when doing workshops outside of North America.
9) A camera bag to keep all of the above.  If you prefer to carry on your back, or use a camera bags with wheels, it matters not to me, but for obvious reason, when walking along beaches or mountain trails camera bags with wheels can be a bit challenging.
10) A LOCKING electronic cable release for all of your blue hour and nighttime photography, ESPECIALLY WHEN SHOOTING THE NIGHT SKY, so go to your favorite camera store or camera store's website and search for a locking electronic cable release for YOUR specific camera i.e, "Locking electronic cable release for my Canon 70D…"
We are going to make some lasting memories together-PROMISE!
All my best-
Bryan F Peterson
Question or waitlist. Email Monique at [email protected]